Applebee's Expands Weight Watchers Menu to Include Steak, Shrimp and Southwest Chicken, All Featuring New Points Plus Program Point Values
American Diners Find Eating Out and Eating Well Can Go Hand-in-Hand; Applebee's Provides Choices to Guests With Its Weight Watchers-Endorsed Meals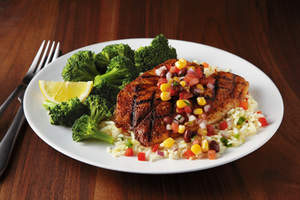 LENEXA, KS -- (Marketwire) -- 01/24/2011 -- With guests asking for better eating choices when they eat out, Applebee's® today announced the addition of three new Weight Watchers-endorsed items, bringing the total number of Weight Watchers items to five. Since 2004, Applebee's has been the only restaurant chain to feature Weight Watchers®-endorsed menu selections.
The three new Weight Watchers-endorsed selections include:
Chipotle Lime Chicken (Weight Watchers PointsPlusvalue: 13): Grilled chicken breast topped with spicy chipotle lime salsa, served with Southwest rice, black bean and corn slaw and cilantro- tossed Applebee's citrus vinaigrette.
Steak & Potato Salad (Weight Watchers PointsPlusvalue: 8): Fresh spinach, red peppers and onions, tomatoes and fresh basil tossed in a creamy Dijon vinaigrette, then topped with hard-boiled eggs and tender grilled sirloin steak, sliced and served over herb-steamed potatoes.
Spicy Pineapple Glazed Shrimp & Spinach (Weight Watchers PointsPlus value: 8): Two pineapple glazed skewers of grilled shrimp atop white rice, served with a tender spinach salad with black bean and corn salsa and diced cucumbers.
They join the other Weight Watchers-endorsed items, which include:
Paradise Chicken Salad (Weight Watchers PointsPlusvalue: 8): An island blend of pineapple, mandarin oranges, fresh apple chunks, pico de gallo and crisp greens, topped with slices of blackened grilled chicken and served with a cool balsamic vinaigrette.
Cajun Lime Tilapia (Weight Watchers PointsPlusvalue: 8): A grilled Cajun-seasoned tilapia fillet topped with lime juice and black bean and corn salsa, served on a bed of rice pilaf with seasonal vegetables.
All five selections feature point values assigned through Weight Watchers newPointsPlus™ program, the biggest innovation from Weight Watchers in more than a decade. According to Weight Watchers, PointsPlus™ uses the latest scientific research to create a program that goes far beyond traditional calorie counting to give people the edge they need to lose weight and keep it off in a fundamentally healthier way.
"Guests want smarter choices that also taste great and are satisfying," said Mike Archer, president of Applebee's Services, Inc. "These three new Weight Watchers meals deliver on all those expectations."
"We are confident that PointsPlus™ is the best program Weight Watchers has ever offered and Weight Watchers is pleased to endorse five menu items from Applebee's," said David Kirchhoff, president and CEO of Weight Watchers International.